Animal Shelters, Rescue Groups and Animal Control Departments in Northern Michigan
The following is a list of shelters and rescue groups in Northern Michigan by county. The list contains groups within approximately 80 miles of Traverse City, Michigan. If you know of a group that isn't on the list, notice any broken links or have information on any disbanded organizations, please email us at info@petfriendsmagazine.com
ANTRIM COUNTY
Antrim Co. Animal Shelter
Bellaire
http://www.petfinder.com/shelters/MI195.html
We opened our new facility in March 2004. We now have indoor, outdoor dog kennels, a seperate cat area, isolation kennels for dogs and cats, a grooming area for the strays that come in needing TLC, an extra large garage for animal control storage and vehicles, a laundry area, a meeting room for humane education and for staff and volunteers to brainstorm ideas, and a pre-adoption room, where interested adopters can take some time free of distractions to meet a potential pet. If we all work together as a team, we should be able to do great things for the homeless animals in Antrim County. If you are looking for a stray dog in Antrim Country, please click here.
---
With a Little Help from My Friends
Bellaire
http://www.walhfmf.org



We are a 501c(3) public charity dealing with animal issues in Antrim County, Michigan. WaLHFMF (With a Little Help From My Friends) has opened a Pet Crisis Center in Bellaire. This wonderful facility offers a safe place for pets in true emergency situations that have nowhere else to go. Many people have already experienced situations where they had no where to turn during an emergency. This can be due to a temporary hospital stay, entering a nursing home, a family member's death or a home fire. Pet owners may be forced to make a very emotional decision in the midst of an already stressful time. Animals are given love and care while they wait for their owners to overcome their crisis and come back for them. In some cases when they can't be reunited, a new loving home will be found. Unlike traditional type "shelters," this center is not a place where people can drop off their pets. Instead, the Pet Crisis Center will be used to assist Antrim county agencies such as animal control, fire, police, mental health and family services. There is, however, hours for the public to come visit and adopt animals that cannot be reunited with their owner and there is also opportunities for volunteers to help at the center. The center is a resource in helping the public with pet issues. You can contact the center at 231-533-4070 or visit walhfmf.org.
---
Morrow's Safe-Haven
Mancelona
Website
Email: bsmorrow4@yahoo.com
Shelly Morrow - (231) 350-0726
We are a small home based Rescue that is committed in saving dogs and puppies and giving them a second chance for a quality life. We take in these animals get them vet checked, spay/neuter when age appropriate. We socialize them, and work diligently to find them their Forever Homes. See pets at our home by appointment only because of our work schedules
---
BENZIE COUNTY

Animal Welfare League of Benzie Co.
Beulah
Website
http://www.petfinder.com/shelters/MI466.html

We are a group of animal loving people in Benzie County. The League was founded in 1977. It is a partnership between the Benzie County Animal Control Office and the Animal Welfare League of Benzie County. The AWL has many fund raisers throughout the year to help fund the Spay and Neuter program that we fund for all Benzie County Residents.
---
CHARLEVOIX COUNTY

Charlevoix Co. Humane Society
Boyne City
http://www.petfinder.com/shelters/MI209.html
or http://www.charlevoixhumane.org

We advocate the humane treatment of animals by initiating community awareness of pet care, owner responsibility, animal population control, and prevention of animal cruelty. We seek the return of lost animals to their owner, locate suitable homes for adoptable animals, and foster animals with special needs. We will set an example for all, providing humane education and special humane programs to reach and guide the community. We will efficiently use our animal shelter as a safe haven to provide care, treatment, and protection of lost, abused, injured, surrendered, and/or abandoned animals.
---
Second Chance Ranch and Rescue, Inc.
Boyne City
http://www.secondchanceranchandrescue.com
and the Petfinder site

We are a 501c3 non-profit who's mission is to rescue and rehabilitate abandoned, neglected or abused farm animals and horses in Northern Michigan. We focus on taking the worst of the worst: animals that have been confiscated by Animal Control or those who must be given up by their owner due to extreme financial hardship or severe illness. We do NOT taken in animals that are simply no longer wanted. We are a group of equine and large animal professionals (veterinarian, farrier, pharmacist, veterinary technician, trainer) who donate our time and skills to bring these animals back to health.
---
CRAWFORD COUNTY

AuSable Valley Animal Shelter
Grayling
http://www.ausablevalleyanimalshelter.org


We are people looking to find animals good homes and give them the best care we can provide. We work very hard to make sure every animal gets the love that it deserves. We started posting pets on the internet because we have wonderful animals at our facility and not just people in our community should know about them. Other people should, too. It gives them a better chance at finding new, loving forever homes! We do this for the sake of all our animals. To donate on PayPal, click here.
---
EMMET COUNTY

Emmet County Stray Center
Petoskey
http://www.petfinder.com/shelters/MI472.html
---
Little Traverse Bay Humane Society
Petoskey and Harbor Springs
http://www.ltbhs.com/

The Little Traverse Bay Humane Society is a non-profit that offers a temporary home to companion animals that have lost theirs. We are a no-kill shelter. No animal will be euthanized for lack of space. Our mission is to offer a warm shelter, veterinary care, and personal attention to all our animals while they are in our care. We will promote proactive methods of controlling pet overpopulation. We have committed ourselves to educate the public on the humane treatment of companion animals. LTBHS takes in and places hundreds of dogs and cats every year!
---
GRAND TRAVERSE COUNTY

AC Paw
Traverse City and Mancelona
http://www.acpaw.org/
http://www.petfinder.com/shelters/MI212.html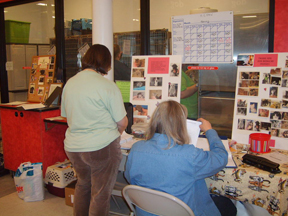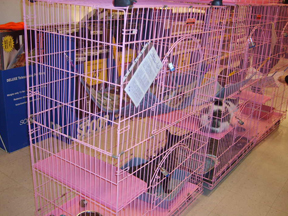 A.C. PAW is an all volunteer, 501(c)3 non-profit organization. AC PAW started as a vision of two people, Brian Manley and June McGrath to ensure a safe haven for animals from abuse, hunger, disease and death. As we all know to well, the over population problem happening at animal shelters, A.C. PAW was founded to give the animals a second chance at life. We are officially begining our 11th year of volunteer service, with a handful of dedicated volunteers and a small number of donors.
---
Cherryland Humane Society
Traverse City
http://cherrylandhumane.org/

Working to provide a bright and positive future for all pets.Our Vision: A responsible, loving, and permanent home for EVERY pet, and a heightened public awareness of the benefits of pets to mankind. Building to save lives; provide hope and establish a bright and positive future for all pets. A 501 C3 nonprofit organization, independent - not affiliated with any other organization or governmental agency and dependent upon donations, fund raising activities, estates, planned giving, memorials, and occasional grants for operation.
---
For Animals
Traverse City
http://www.foranimalstc.org/

FOR ANIMALS is a 501(c)3 non-profit organization dedicated to the protection of animals and the environment from abuse and exploitation through education and the promotion of compassionate lifestyles. We strive to end the abuse and exploitation of animals. We focus mainly on local, but also on national and world issues: Pet Overpopulation; Wildlife Protection; Animals in Entertainment; Fur. We also have a CHARITY SPAY AND NEUTER PROGRAM:Our free program is available to people who meet income requirements. If you do not meet our requirements, you may still be eligible to have your pet spayed or neutered at a reduced cost.
---
Grand Traverse County Animal Control
Traverse City
http://www.co.grand-traverse.mi.us/departments/health/Animal_Control.htm
If you've lost or found a dog, please call them at 231-995-6033. The animal control does not adopt out dogs to the public but will often place with with rescue groups if they are adoptable.
If you can't get a hold of them and the dog you have found has a license, please call 922-4550. It's a non-emergency dispatch number for GT county.
If you need to report animal abuse or neglect, PLEASE CALL THE GRAND TRAVERSE COUNTY SHERIFF'S DEPARTMENT by dialing 9-1-1. You can also call the non-emergency number at 231-922-4550.
---
H.A.N.D.D.S. To The Rescue
(Helping Abused Neglected Disabled Displaced Souls)
Dorothy (231) 409-4833 / Patti (231) 645-6040
Facebook Adopt-a-Pet Site
Petfinder Website

http://www.handdstotherescue.com
Email: HANDDS09@yahoo.com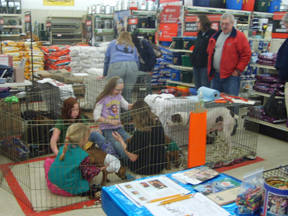 H.A.N.D.D.S. to the Rescue is a all Volunteer group that is dedicated to saving those dogs that would otherwise be euthanized due to lack of space, medical conditions or severe injuries. All of our dogs are kept in a Foster care system with loving families that work hard at rehabilitating these animals to make sure they are in good health before being adopted. All of our dogs are spayed/neutered, brought up to date on their shots, dewormed, heartworm tested and flea treated.
---
Horse North Inc.
Kingsley
http://www.horsenorthrescue.org



Rescue and Placement Program. Our organization is made up of many volunteers. We take in abused, abandoned, neglected, rescued and donated horses and ponies. We access the incoming horses, tend to their needs (physical, emotional and training), rehabilitate them if needed and the ultimate goal is to adopt/lease the horse to an appropriately matched home.

---
Michigan Equine Foundation
Dr. Tanja Molby, a Suttons Bay veterinarian with Equine Veterinary Services, is in the process of establishing the "Michigan Equine Foundation". It is being formed to provide health, nutritional and housing Resouces for horses in need. For more information, please contact Dr. Molby by emailing her here.

---
North Star Border Collie Rescue
Traverse City
www.petfinder.com/shelters/MI633.html
or www.northstarbcrescue.org

North Star Border Collie Rescue is established to rescue, rehabilitate and seek suitable homes for unwanted or abandoned Border Collies and Australian Shepherds. Our focus is in the State of MI. Our adoption fee is $250 that is required at the time of signing the adoption agreement contract. All of our pets are spayed or neutered, heartworm checked and up to date on shots before adoption. We require personal and vet references along with a home check. There is no regular office and all our dogs are in foster homes. Our volunteers have other jobs so please be have patience on return calls.
---
Pine Cone Farm
Traverse City area
Petfinder site

Pine Cone Farm is a dog rescue facility located just outside Traverse City MI. Founded by Linda Gottwald -- please call Linda at 231-944-6520 if you are interested in any of the dogs on her websites.
---
UN-Cats Feline Rescue
Traverse City

This group addresses feral, FIP and leukemia cats in Northern Michigan. Traverse City PetSmart adoptions are Saturdays from 10:30 am to 5:00 pm. Adoption fees are $100.00 which includes a spay/neuter, rabies vaccine, Leukemia (Felv) Vaccine, FVRCP (general cat vaccine), FELV/FIV testing, de-worming and flea treatment. We also offer senior kittizen discounts for our kitties in their golden years, as well as $150.00 for two cats if you just can't live without them both. All cats at PetSmart for adoption have tested negative for Felv and FIV. However, our Felv and FIV kitties are definitely looking for a home to call their own through our sanctuary. For more information on the group, contact Mandie at 231-590-1420 or email her at uncats@aol.com.
---
KALKASKA COUNTY

NorthWoods Animal Coalition
(Previously Kalkaska Citizens for Animals)
Kalkaska
http://www.kcacares.org

NAC is a grass-roots (all volunteer), non-profit 501(c)(3) organization, dedicated to addressing issues related to the humane treatment of animals. The membership consists of volunteers who are all ordinary people, living ordinary lives, with a love of and for animals of all shapes, sizes, and species. These individuals are united together in a common purpose; and working together with others, are driven to accomplish all that is possible for the benefit of the animals of this area.
---
Kalkaska Co. Animal Control
Kalkaska
http://www.petfinder.com/shelters/MI160.html
Website

We are a small shelter in Northern Michigan than takes in approximately 800 animals a year. Our shelter is always in need of donations. The most heavily needed item is cash donations to provide veterinary care and spaying and neutering of the shelter animals.
---
LEELANAU COUNTY
Black Sheep Crossing
Northport
231-386-7234
http://www.blacksheepcrossing.org



This farm sanctuary provides food, shelter, medical care and love to unwanted, abused, ill, injured, and/or abandoned cats, dogs, birds and farm animals for the remainder of their lives. They do NOT adopt out these animals. Send a tax-deductible donation to: Black Sheep Crossing, 12540 N. Kehl Road, Northport, MI 49670. The sanctuary is a 501(c) 3 non-profit organization
---
Frisco and Joey's Mission
P.O Box 256
Maple City, Mi 49664
Jess 231-645-0394 or Misty 231-384-1414
http://www.myspace.com/fandjmission
email them here


An organization protecting and preserving the rights of senior and special needs pets, because every pet deserves to be loved!
---
Northern Michigan Rat Rescue
Erin Dendrinos - email: erindendrinos@excite.com
8353 E Hoxie Rd
Cedar MI 49621
(231) 499 4410

We are a small scale non profit rat rescue in Traverse City Michigan. We take in homeless rats, give medical attention as needed and then match them up with loving long term families who will spoil them rotten.

---
Leelanau County Animal Control
Dispatch - 231-256-8800 / Can be transferred into extension 630 - or dial directly to 231-256-8630.
---
Wings of Wonder
Empire
231-326-4663
http://wingsofwonder.org
Wings of Wonder is a non-profit raptor sanctuary located in Empire, Michigan. Active since 1990, our primary mission is education. Wings of Wonder presents over 120 educational programs annually throughout Michigan, reaching over 8,000 people each year. Our presentations are designed to foster appreciation, understanding, honor and respect for raptors and the important role these birds play in healthy ecosystems.
---
MANISTEE COUNTY

Homeward Bound Animal Shelter
Manistee
Homeward Bound Website

The Homeward Bound Animal Shelter is a non-profit community-based animal shelter located in Manistee County. We are not funded by any local, state, or federal funds. All money used to maintain Homeward Bound and the animals comes from donations and fundraisers.
---
MISSAUKEE COUNTY

Missaukee Humane Society
Lake City
http://www.petfinder.com/shelters/MI97.html
http://www.mhs-pets.org/


The Humane Society's mission is to benefit animals by providing education, guidance and shelter as needed in order to support a safe, healthy and nurturing environment for animals. Our commitment is to serve as a partner in creating and sustaining this environment for animals both in the shelter as well as in the community.
---
Stephanie's Animal Rescue
Lake City
Phone: (231)920-2177
Email: dogladyrescue@hotmail.com
Website

I am accepting any pets that I have adopted out in the past if for any reason they need to be returned to our rescue via my adoption contract. If you are looking for a pet and are not having luck finding the perfect one please still contact me and I will assist you in finding the correct pet for your home and helping a homeless pet in the process. I have decide to put my focus on the "giant" breed dogs along with any type of "bully" breeds. I do have a couple foster families that help with other breeds. I can also assist you in training/behavior problem to keep animals in their home with their families.I have a very small group who does animal rescue out of our homes, for the welfare of the animals. All animals I place are up to date on vaccinations, spayed/neutered and have basic obedience training.
To adopt a pet please e-mail me at dogladyrescue@hotmail.com or call/text me @ (231)920-2177. We have a three step process first a verbal interview, then a meet/greet with the new pet, and finally a home safety check. There is a small fee with each pet, which is the reimbersement of their medical bills. Each pet is placed by his/her personality and adoptee's maybe turned down if your home may not fit the needs of that particular dog.

---
MONTMORENCY COUNTY

Elk Country Animal Shelter
Atlanta
989-785-3738
http://elkcountryanimalshelter.org

The Elk Country Animal Shelter shall be committed to providing a caring shelter and eventual placement of adoptable animals; be advocates for companion animals; provide education on the proper care of animals and promote understanding of the need to control the population of unwanted animals.
---
OCEANA COUNTY

Oceana County Animal Shelter
Shelby
http://www.petfinder.com/shelters/MI223.html
We are a small rural, county shelter in an area of 524 square miles and a population of about 28,000. Please come see our animals ready for adoption, and feel free to take them for a little walk. We are always looking for volunteers to help us or to foster our animals. We have room for only 9 dogs and 7 cats. To make our animals more comfortable, we would appreciate donations of old clothes, towels, etc. for warm bedding, dry pet food, treats, cat toys and raw hide chews, etc. We are looking to update our dog beds and make our pets as comfortable as possible while they are with us. Our dogs love to sleep on Kuranda Dog beds, but we don't have enough for everyone. If you would like to donate a bed at a special wholesale price for another dog to sleep in comfort, please call us. 2185 W. Baseline , Shelby, MI 49455. Please call if you are interested in any of our pets. (231)-861-5395
---
OSCEOLA COUNTY

Osceola Co. Animal Control
Reed City
http://www.petfinder.com/shelters/MI468.html
County Animal Control Website - which also includes adoptable pets

We are a County Operated Governmental Animal Control facility. We enforce the MCL laws and investigate cruelty complaints serving the Osceola County Michigan area.
---
Second Noah Animal Welfare Org.
Reed City
http://www.petfinder.com/shelters/MI306.html
Second Noah is a non profit organization founded by two lifelong friends in west central Michigan. We recognized the need for an alternative to "dog pounds" that euthanize or give animals to research. We are a no-kill organization promoting spaying and neutering as the only effective solution to pet over-population. Our efforts are supported entirely by adoption fees, fund raisers, annual memberships and donations. We gratefully accept donations of any size, as well as supplies for the animals, such as food,crates, carriers, toys, blankets etc. If you can donate any of these items, new or used, please contact us. We will arrange for pickup if necessary.
---
OTSEGO COUNTY

Otsego Co. Animal Control
Gaylord
http://www.petfinder.com/shelters/MI217.html

Otsego County Animal Control is a NO-KILL of adoptable pets municapality (county operated) animal control department and animal shelter. We enforce state and local animal control ordinances, take in strays and owner surrendered animals, and adopt out animals. We do not euthanize animals unless they are considered unadoptable per our policy. The success of this no-kill policy is due in large to a great spay/neuter program in place within the county.
---
Friends for Life
http://www.fflotsegocounty.org/

Friends for Life of Otsego Coutny, Inc.(FFL) is a non-profit, 501-3(c) organization dedicated to helping save the lives of pets in Otsego County. Friends for Life, Inc. has contributed to the success of Otsego County's "No Kill of Adoptable Pets Policy" in which no animals are euthanized unless they are deemed aggressive or medically untreatable. This policy is successful due to a great spay/neuter effort in which FFL has played a key role. Beginning in 1999 with the implementation of the no-kill policy , FFL has helped raise funds to spay/neuter thousands of animals and significantly reduce the number of dog and cat litters brought to the shelter.
---
ROSCOMMON COUNTY

Roscommon Animal Shelter
Roscommon
http://www.petfinder.com/shelters/MI257.html

We are a County Funded Animal Shelter serving the towns of Roscommon, Higgins Lake, St Helen, Houghton Lake, Prudenville and part of Gladwin. Most animals that come to our shelter are found as strays but we attempt to help people find homes for unwanted pets as room at the shelter allows. Our staff and volunteers are committed to the humane treatment of animals. We try to educate the public as best we can, when we can.
---
Broken Heart Farms
Houghton Lake
Website
We have established a service in Northern Michigan to help abused, neglected and unwanted farm animals.
---
WEXFORD COUNTY
Wexford Co. Animal Shelter
Cadillac
http://www.petfinder.com/shelters/MI96.html
Working hand-in-hand with Wonderland Humane Society to secure loving homes for homeless dogs and cats.
---
OTHER MICHIGAN RESCUE GROUPS & ORGANIZATIONS (ALPHABETICAL)
AuCaDo Australian Cattle Dog Rescue MI & OH
Remus, MI in Mecosta County
989-330-5147
Website


We are a 501(c)(3) dedicated to helping Australian Cattle Dogs. We have locations in Michigan and Ohio. We have fully vetted and evaluated, blue or red ACD's available at all times. We also provide a monthly spay / neuter clinic for felines.
---
Christine's Critter Cafe Rescue and Sanctuary
Website
All species no-kill rescue sanctuary. Domestic pets and wildlife.
I am Christine - a God loving gal whose purpose in life is animals and their welfare. Every single thing I do is for the animals that, sadly, were someone's throw-away. Critter Cafe has achieved great success with the adoptions of 1,008 fully vetted pets to date (03/22/10), all with an approved Life Care Contract to adopt. I would like to offer heartfelt thanks to our many wonderful supporters: they have helped us to continue striving for the betterment of all animals.
I rescue and house and vet fully bunnies, guineas, ratties,mousies, hammies, birds, degus, cats/kits,dogs and pups. Not one species is turned away ever along with and including all, I do mean all wildlife!!
Phone# 231-865-6021 * 5818 Airline Hwy * Fruitport, MI. 49415 * 501(c)(3) Nonprofit
---
Elk Country Animal Shelter
Atlanta, MI
Website


The Elk Country Animal Shelter shall be committed to providing a caring shelter and eventual placement of adoptable animals; be advocates for companion animals; provide education on the proper care of animals and promote understanding of the need to control the population of unwanted animals.
---
English Springer Rescue America
http://www.springerrescue.org/

English Springer Rescue America, Inc. (ESRA) is a national referral and foster care purebred placement organization, and a 501(c)3 nonprofit corporation. ESRA's mission is to provide foster care and adoption referral services to humane societies, private shelters, and animal control facilities nationwide with English Springers they have impounded. Please contact Beth Miller, the Michigan ESRA Co-Coordinator at europamoon@hotmail.com
---
Grateful Acres Animal Sanctuary
Website

Grateful Acres was established in Otsego, Michigan, for the purpose of providing lifetime care for animals with special needs. A secondary goal is to educate people about vegetarianism and a cruelty-free lifestyle. The sanctuary sits on thirteen acres in rural southwest Michigan, approximately 20 minutes from Kalamazoo. We care for over 100 permanent residents, and numerous other animals that are available for adoption to qualified homes. Our "lifers" include animals who are elderly or handicapped, others who have endured cruelty or neglect, and still others who were victims of factory farming. Grateful Acres is a care for life sanctuary, and is funded solely by tax-deductible donations made by people like you.
---
Great Lakes Bay Animal Society
Midland, MI
Website

Animal welfare and rescue in the Great Lakes Bay Region. Serving Saginaw, Bay County and Midland. Their mission is "Mobilizing the caring power of communities to reduce the number of unwanted, neglected and abused animals."
Click here for Petfinder site info.
---
Great Lakes Rabbit Sanctuary
http://www.rabbitsanctuary.org

Located in Washtenaw County in Whittaker, Michigan, Great Lakes Rabbit Sanctuary provides a safe haven to abandoned, abused, and neglected domestic rabbits with the goal of adopting them out to loving homes. Those rabbits who are not eligible for adoption, due to either health or temperament, live out their lives peacefully at the sanctuary. We also strive to educate the public regarding the joys of having a house rabbit, rabbit behavior and health, as well as the importance of proper diet and care. Click here for adoptable rabbits. For more information, click here to email or call (734) 461-1726.
---
Greyhound Retirement Adoption Care and Education (GRACE)
Belleville, MI
http://www.houndsofgrace.org/
A 501(c)3 non-profit organization dedicated to placing retired Greyhounds into loveing homes and educating the p the public as to what loving and gentle pets they truly make.
---
Horses' Haven
Howell, MI
http://www.horseshaven.org
Horses' Haven began in 1995 as a not-for-profit humane care and adoption agency whose mission is to take in and provide humane care for aged, abused, unwanted, rescued and neglected horses, or horses whose owners can no longer keep or care for them. Our goals are to rehabilitate, retrain and provide shelter for these animals until suitable homes can be found, or to permanently care for those animals for which homes are unavailable. We are not limited to taking in horses, and if certain conditions exist, we will accept any large animal.
---
Kalamazoo Animal Rescue
http://www.kalamazooanimalrescue.com
Kalamazoo Animal Rescue is an all volunteer, federally recognized 501 (c)(3) non-profit organization founded in 1991. Our primary goal has remained the same, to rescue cats and dogs from cases of abuse and neglect. Since our inception, we have worked with nearly 5000 animals. There are no paid staff in KAR - we are all volunteers who donate our time and energy to the cause of rescuing animals.
Kalamazoo Animal Rescue is dedicated to providing refuge to homeless, stray and abandoned dogs and cats throughout Southwest Michigan and placing these animals into permanent homes by utilizing volunteer efforts and community education.

Animals are provided with all necessary veterinary care from the time they arrive at KAR. All animals are checked for internal parasites, fleas, and ear mites, then given treatments and immunizations as required. Cats and kittens are checked for feline leukemia, dogs and puppies are checked for heartworm, and all animals are treated accordingly. Age allowing, ALL ANIMALS ARE SPAYED/NEUTERED PRIOR TO ADOPTION.

All animals are placed with KAR foster families. These families are KAR volunteers who generously open their homes to animals in need. The animals are provided with a caring, nurturing atmosphere to facilitate their well-being. While in foster care, we gain an understanding of the animals' needs and their personality traits. Foster homes work with adoption coordinators to match the animals with suitable permanent families. All supplies such as food, dishes, and collars are provided to the foster family by KAR.
---
Lake Haven Animal Rescue - Newaygo
http://www.lakehavenrescue.org

---
Michigan Horse Welfare Coalition
https://www.michiganhorsewelfarecoalition.org/

The Michigan Horse Welfare Coalition is an ad hoc group of concerned horse people from throughout Michigan dedicated to helping horse owners struggling to provide for their animals and saving as many horses as possible from abuse, abandonment and neglect. The group is comprised of individuals from rescue organizations, breed groups, veterinarians, state officials, law enforcement agencies, equine media, and concerned citizens. Though diverse in perspectives and background, we all shed our differences and unite to solve the problems confronting the equine community in our state. We do not engage in controversial dialogue over issues or personal opinions that may divide us, rather, we remain focused on constructive ideas and the deliverance of real solutions for those ideas.
---
Mid-Michigan Cat Rescue

---
Midwest Schipperke Rescue
Website
Petfinder site for adoptable dogs
We try to concentrate our efforts to help dogs in Minnesota, Wisconsin, Illinois, Indiana, Michigan and Ohio. We do have a large network around the country and are thus able to help dogs from outside of our working area Midwest Schipperke Rescue was established in 2005 and is now a Non-Profit organization registered with the State of Michigan. Midwest Schipperke Rescue is a 501(c)(3) organization.
---
Northern Michigan Animal Rescue Network, Inc. (NMARN)
Website

The Northern Michigan Animal Rescue Network, Inc. (NMARN) is a 501(c)3 non-profit organization that was organized to carry out rescue efforts that aid cats and dogs and other domestic animals. They are working on establishing a network of volunteers to transport animals in need of vet care and also to safe shelters, foster homes or permanent homes. They are actively recruiting, organizing and training volunteers, promoting animal welfare and the prevention of cruelty to animals as well as educating the public regarding issues facing animals.
---
Shelly Olree's Shelter (Hillman)
http://shellyolreesshelter.shutterfly.com/

In May of 2010 I embarked on my new adventure. I started fostering for a very dedicated group of individuals whom are steadfast at reducing the euthanization rate at the Genesee County Animal Control, located in Flint, Mi. The Genesee County Animal Control has the second highest kill rate of all shelters in the state of Michigan. Over 8000 dogs, puppies, cats and kittens were euthanized in the year of 2009, over 5000 of those were felines. Shocking statistics!
Since that time we also learned of an animal control in Midland, Michigan that was still gassing their residents to reduce the over flow of unwanted animals. The Humane Society of Midland County, as of January 1, 2011 took over that shelter and no longer gasses, but still unfortunately are forced to euthanize when the shelter becomes full. So the SOS opens our doors to them when in need.
Since May 2010, the SOS has had over 150 cats and kittens come through our doors, all of which would have been euthanized. I have had as many as 25 residents at one time and have an average adoption rate of 6 cats a month. All expenses are out of our own pockets, and as they say, "empty wallet, full heart". Depending on my current resident capacity, I travel to and from Flint and Midland, with the help of others, approximately once a month to transport the most urgent felines to the shelter, and deliver most of our adopted cats all over northern Michigan; we have cats as far north as Mackinaw and south to Houghton Lake, and many of them are in the Grand Traverse area.
My mission is to make a difference, one animal at a time. We have quickly realized we cannot save them all but to the ones we do save, we ARE making that difference. I intend to continue my rescue mission, all the while learning, as we go, and our immediate goal is to become a state recognized shelter with the ultimate goal of becoming a 501(c)3 non-profit organization, and expand my efforts into a generation of no kill shelters, less homeless pets, and the end of unwanted litters!

---
Warm Fuzzies Ferret Rescue
http://www.warmfuzziesferretrescue.org/
or http://www.geocities.com/shellzgal/fuzzys
OTHER LINKS (alphabetically)
Guardian Angels for Soldiers' Pets
http://www.guardianangelsforsoldierspet.org
---
Northern Michigan Animal Rescue Network

---
Pet Pantry of Michigan
www.petpantrymi.org
Jennifer Stiles-Founder/President
Email: petpantry2009@yahoo.com
1202 Shettler Rd., Muskegon, MI 49444 - 231.747.6986

Our program helps low income families feed their pets. When times are tough, we ourselves have had to visit food pantries to get help with food and other supplies. We have found that the one thing that food pantries do not help with is food for your pets. So you are left to decide: What do I feed my pets? That's when we decided to do something about it.Treasured family pets are being left hungry, homeless and abandon. The Pet Pantry program is aimed at helping families with the food and supplies needed to keep pets in their homes and with their families. The program is based on donations by businesses and by the public. Our distribution days are when families can come and get immediate help. We have been attracting more people every time an event is held. We have helped many families keep their animals in their homes instead of going to a shelter. Pets are not disposable, they are family.
---